In early 1876, Edward Moran met French sculptor Frédéric Auguste Bartholdi, who told Edward Moran of his plan to create a monumental statue in the New York Harbor titled Liberty Enlightening the World—more commonly known as the Statue of Liberty.

With the support of fundraisers in the United States and France, the statue was completed in France in 1884 and arrived in New York Harbor in June 1885, broken down into 350 pieces and packed into 214 shipping crates.

On October 28, 1886 thousands of spectators—including Edward Moran—gathered for the dedication of the statue. Moran's Unveiling the Statue of Liberty (1886) depicts the moment when the assembled warships fired a 21-gun salute to welcome President Grover Cleveland onto Bedloe's Island for the dedication ceremony.

In the painting, ships flying French and American flags fill the harbor as smoke from the salute rolls across the island.

Liberty stands clear, torch raised to the sky. In her other hand, she holds the tablet of the law, upon which is inscribed the date of the adoption of the Declaration of Independence: July 4, 1776.

From http://www.whatsoproudlywehail.org/curriculum/the-american-calendar/unveiling-the-statue-of-liberty-by-edward-moran
Click on the "PEPSTERS" picture below to see the
8 mm footage of our
Marching Band, Flag Girls, Drum Corps, Majorettes, etc.,
marching down Ocean Boulevard in 1962.
This video was taken by the father of Bjorn Fredrickson, Class of '65, and converted
from home movies to a digital format. Thanks to Bjorn for this cool memory!
Then scroll on down the page to see the Football Team and the Bruinettes.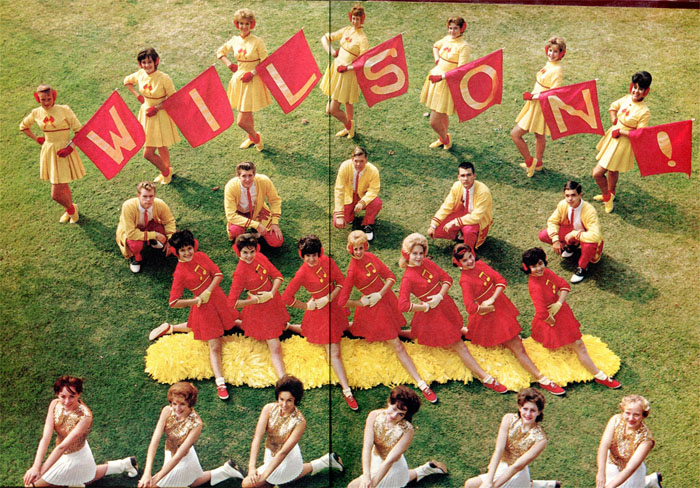 Flag: Wendy Archer, Susie Davidson, Carol Larimer, Kathy Baker, Anne Millie, Leslie Tucker, Sylvia Valera
Cheer: Dave McDermid, Bob Chrisman, Danny Ehrler, Terry Campbell, Mike Bartell
Song: Carol Fujikawa, Karen Berkey, Donna Rosen, Donna McLaughlin, Kathy Osborn, Dianne Carner,
Sharon Suenaga
Majorettes: Margie Lassiter, Sandy Dearmin, Jane Schwartz (Name Unknown), Marsha McDermid, Patty West


******************************************************************************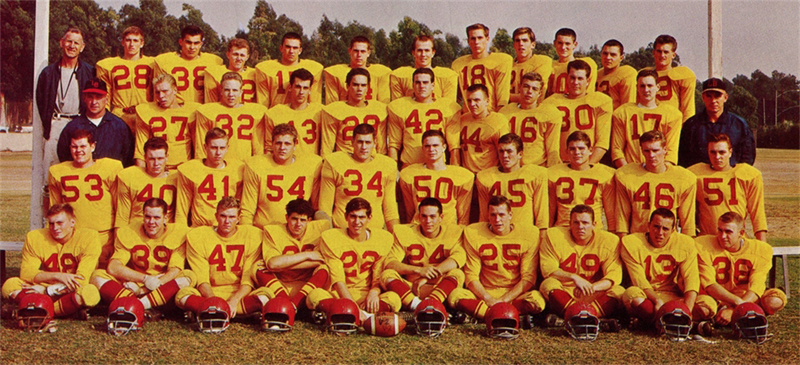 Front Row: Doug McKenzie, Stan Wood, Ed Rimpley, Tom Cadwallader, John Mauger, Mike Grijalva,
Mike Wike, Gary Creagle, Pete Wishney, Ted Willenberg
Row II: Ken Ford, Rusty McWhorter, John Brantingham, LeRoy Roberts, Rod Everling, Bob Heckman,
Eric Conn, John Moore, Jack Harris, Steve Kunau
Row III: Coach Dixon, Gary Smith, Larry Stoops, Richard Fagan, Jay Corbett, John Tigner,
Bill Mamelli, Richard Bradham, Ed Gill, Artie Chapman, Coach Rowland
Row IV: Coach Johnson, Pat Cashman, Dwayne Endres, Tom McCormick, Stan Bauer, Craig Vestermark,
Ron Rathburn, Tony Sutera, Scott Williams, Larry Dixon, Allen Kanasi, Dave Partch
**************************************************************************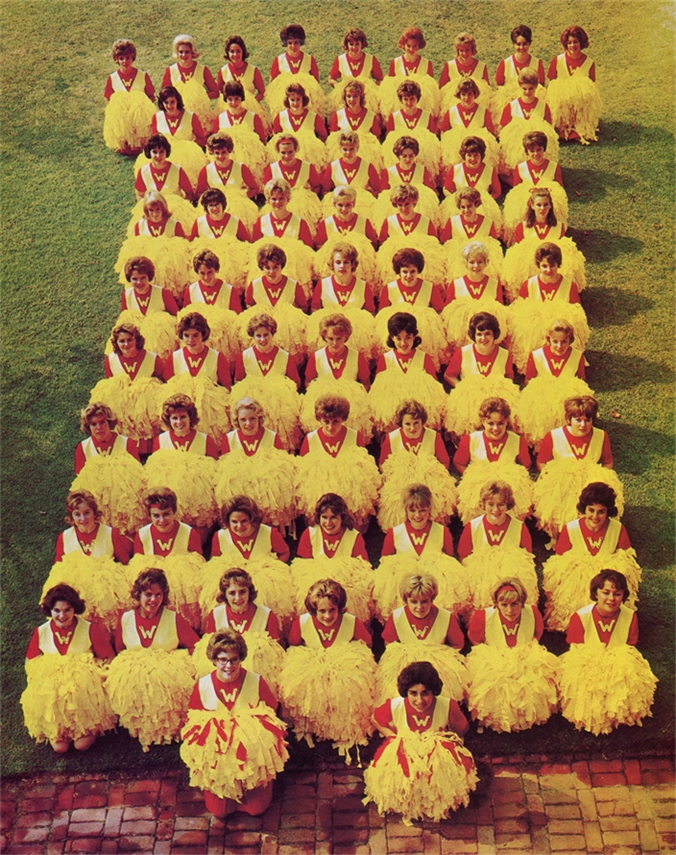 FRONT: Linda Tucker, Vivian Saatjian
ROW 1: Karen St. Clair, Stephanie Brookins, Barbara Warrick, Pam Mamelli, Linda Kagy, Marcia Miller,
Sue Sherwood
ROW II: Peggy Dreckman, Inez Guirey, Laurie Reynolds, Carolyn Nissen, Marianne Solsvik, Diane Webster,
Danny Darlin
ROW III; Sue Gilroy, Peggy Black, Marti Hill, Sue Johns, Sue Weathers, Laura Sokoloff, Susie Bailey
ROW IV: Chris Marr, Jenny Mann, Gay Moore, Bonnie Griffith, Karen Kawai, Donna Vermillion,
Madelyn Tinkler
ROW V: Nancy Christopherson, Joyce Dixon, Donna Church, Pat Markham, Linda Mackie, Cathy Cody,
Donna Halladay
ROW VI: Diana Frich, Loraine Webecke, Barbara Sundell, Sally Sherbin, Julie Zeig, Sue Strobridge,
Kim Gottlieb
ROW VII: Meredith McBurnie, Gretchen Savidge, Laurie Kinley, Karen Watt, Naomi Bjerke, Erin Moore,
Robin Ross
ROW VIII: Roberta Wall, Bev Boyd, Sue Lineberger, Jane Norkus, Robin Kennedy, Betty Ohr, Helen Giller
ROW IX: Diane Silverthorne, Kathy Gotfredson, Annelle Price, Marsha Harris, Toni Cheney, Renee Norrblom,
Beth Hubbell, Alix Epley, Carol McClure