Name: John Dugdale
Years Served: 1966 to 1972
Outfit: United States Navy Seabee's 3rd Naval Construction Brigade
Tours/Stationed: Two tours in Vietnam

Comments: Went to boot camp in San Diego, then to school at Port Hueneme and Camp Pendelton. Got a year of shore duty on Oahu, Hawaii, then back to Camp Pendleton for more training before going to Vietnam. I was decorated twice in country, once by General Westmoreland and once by General Abrams, and received an honorable discharge from the service in 1972.



Name: Barry Wood
Years Served: 1964 - 1966
Outfit: 199th Light Infantry
Tour/Stationed: Vietnam
.
Comments:
I volunteered for the draft in 1964 and went to Viet Nam in 1965. There I received a purple heart and other medals such as good conduct. At the end of my tour I was senior NCO and was running the whole company in maneuvers.

Name: Don R. Singleton
Email:
nwsing@earthlink.net
Years Served: Oct. 1966 through Oct. 1968 (active duty) Oct. 1968 through Oct. 1972 (active & inactive reserve duty)
Outfit: XVlll Airborne Corps (active duty) 40th Infantry Brigade (active reserve)
Tours/Stationed: Ft. Bragg, North Carolina
.
Comments: The most memorable thing I remember about my army time is the day after I was discharged from the army in North Carolina---my first son was born on that day!




Name: Jim Todd
E-mail address:
Sac77171@saclink.csus.edu
Years Served: March 1966 to December 1969 and March 1973 to June 1989
Outfit: Navy
Tours/Stationed: Several locations from Guam to Scotland and Italy.
.
Comments: I served on many types of ships including submarines.

Name: Kevin Long
E-mail: kevin.long@byu.net
Years Served: June 20, 1963 - June 7, 1967
Outfit: 6988th Security Squadron USAF
.
Tours/Stationed: Enlisted less than a week after our class graduation. Basic training at Lackland AFB in San Antonio, TX. Chinese language (Mandarin) training at Yale University in New Haven, CN followed by additional electronics and Chinese training at Goodfellow AFB in San Angelo, TX.
.
Attended flight crew training and global survival school at Stead AFB in Reno, NV. Finally assigned to Yokota AFB in Japan as a C-130 crew member intercepting Chinese military transmissions. Many deployments to Viet Nam, Thailand & Okinawa with additional trips to the
Philippines and Korea.
.
Comments: My time in the war zone (many trips to Da Nang and many missions over Laos, Cambodia and the Gulf of Tonkin - several of which were pretty exciting) gave me a great appreciation for life and for those who were closer to the front lines. I have always been very thankful to our heavenly father that I survived that time. I know that some 56,000 of our generation did not.



Name: Tom Frost
Years Served: 1965 -1967
Outfit: 1st Air Cavalry (Airmobile)

Tours / Stationed: Basic Training at Ft. Polk June-Aug 1965, Redstone Arsenal, Huntsville AL (EOD training/teaching) Sept 1965-June 1966, Combat service in An Khe, Dak To, Kontum VietNam June 1966-July 1967
Comments:
I was drafted in June of 1965 and took my basic training at Ft. Polk (Louisiana swamp land). Did a year at Redstone Arsenal in Huntsville, AL teaching EOD (Explosive Ordnance and Demolition). Then, I was sent to Viet Nam where I was in the 1st. Cavalry Division (Airmobile) based out of An Khe in the Central Highlands (I Corp). I helped run the ammo dump in Phu Tai valley, and drove a lot of combat convoys up the dangerous An Khe and Mang Yang passes (Highways 1 and 19).
I got married in Hawaii on my R&R in January of 1967. Sadly, after 9 1/2 years of marriage, my problems caused by my PTSD (anger issues/flashbacks/night sweats/distrust of people, etc.) claimed that relationship.
In May of 1966 I was attached to the 5th Special Forces and also the 173rd Airborne Division in Dak To, Kontum and Plei Djerang. These areas were right on the Ho Chi Minh trail in the section where Laos/Cambodia and South Vietnam all meet (West area of the Central Highlands). Very scary times...but I was lucky and made it home physically unscathed. Still have PTSD from the experience.
Sadly, our government never seems to understand the effects on war on its' young. They still don't.
I retired in 2005 and now live in Florence, AL with my wife and two crazy dogs and two crazy cats...plus a deck full of racoons, birds and squirrels. Life is good and I am finally finding peace.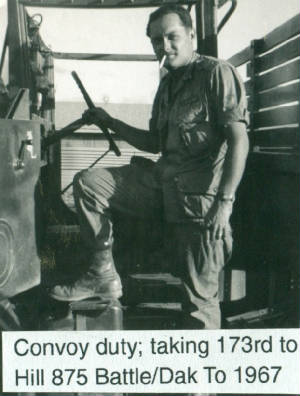 Free JavaScript from
Rainbow Arch



Name: Terry Thorpe
Years served: October 1966 to August 1968
Outfit: U. S. Army, 1st Armored Division
Tours/Stationed: Fort Hood, Texas
.
Comments: I was asked what my most memorable moment was. "The Day I Got Out"

Name: Carl Hughes
Years served: 4 (to the day) February 20, 1966 to February 20, 1970
Outfit: U. S. Naval Mobile Construction Battalion Eight (6/66 to 12/68) Naval Ship Missile System Engineering Station (12/68 to 2/70)
Tours/Stationed: Vietnam (12/66 to 8/67 and 1/68 to 10/68) Port Hueneme, Ca 6/66 to 12/66, 7/67 to 1/68 and 10/68 to 2/70
.
Comments: "I served as a fleet sailor with the Seabees for two tours in Vietnam's I Corps region--the first in Chu Lai, and the second in Gia Le. Among my duties for an 850 man battalion were running the R & R program and leave program, transfer and receipt of personnel, and drafting responses to Congressional Inquiries. I was also frequently a courier. In "military situations" on our second deployment during the 1968 Tet Offensive, I was a squad leader with a small section of perimiter to defend. I'm fortunate enough today to be in touch with about a half dozen or so of my my buddies from Vietnam, and look back at the experience as one of tremendous growth and maturation."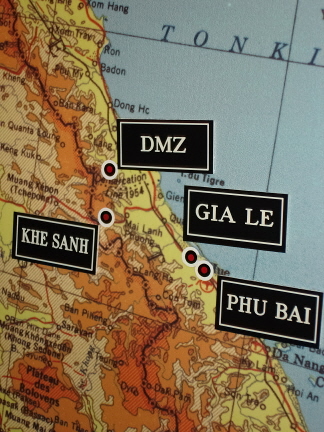 Name: George Beavis
Email Address:
BeavisGC@wavecable.com
Years Served: 1966 to 1970
Outfit: Hospital Corpsman
Tours/Stationed: Guam and the Repose (68-69) a hospital ship in "I" Corps around the DMZ
.
Comments: We picked up casualties during the day then went to DaNang at night and offloaded the wounded to be shipped home or sent to the morgue. We kept about 3-400 (mostly marines, but including civilians, kids and NVA prisoners). I worked psychiatry, orthopedics, triage, malaria.
Was stationed in San Diego for last 6 months.



Name: John McClelland
Email address: bmcclelland@kumc.edu
Years served: September 1963 to Sept 1967 Air Force Reserve 1985 to 1995
Outfit: Air Cargo Delivery via C-123 and C-130 Cargo Planes
Tours/Stationed: Richards Gebaur A.F.B. in Grandview, Mo. Colorado Springs, Co. Then 13 months in Viet Nam, returned to Richards Gebaur A.F.B.then honorably discharged. March A.F.B Ca with Air Force Reserves.
.
Comments: Under the "Buddy System" Steve Farmen and I went into the U.S.A.F. The first time I saw him after the day we enlisted was February 2005, (don't trust the Recruiters). I met my wife Louise after Basic Training and Tech school while stationed at Richards Gebaur A.F.B. We've been married 40 years now. The picture was taken in '65 in Viet Nam, beside the hut where I lived.



Name:
David Sievers
Email address:
dsievers2@verizon.net
Years served: 1966 - 1968
Outfit: U S Army
Tours/Stationed: Vietnam Feb of 67 to Feb of 68
.
Comments: I was flown out of country during the Tet offensive in 1968...wild times!! I was stationed near Saigon at Bien Hoa and Long Binh for most of the time...I was also on a forward fire base for about 2-3 months near Xuan Loc, on an old Michelin rubber plantation. One of the highlights there was watching night attacks by "Puff the Magic Dragon," a heavily armed gunship that put on quite a light show! I have many students in my classes at Wilson whose parents and grandparents came to Long Beach from Vietnam, Laos and Cambodia as a result of our involvement there.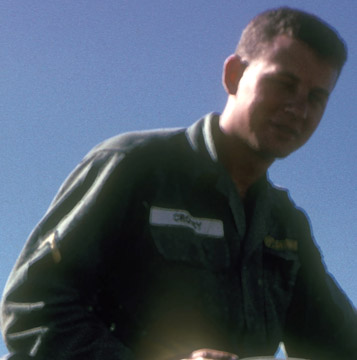 Name: John Crosby
Years Served: 20 May 1963 - 20 December 1966 Discharged in 1971
Outfit: California Army National Guard
Tours/Stationed: California
.
Comments: I joined the California Army National Guard while still in the 12th grade, on 20 May 1963. Actually went to two drills while still in high school. On 20 July 1963 started basic training at Ft. Ord. Then OJT at the 586th Signal Co. at Ft. Irwin, Calif. Finished six months in Army on 20 Dec 1963. Back to Company C, 240 Signal Bn., on Seventh St., downtown Long Beach.
.
Because I joined the Guard in high school, I only had to do three years active reserve (one weekend per month, two week summer camp per year at Camp Roberts, and Watts Riot Duty), which I finished as Cpl E-4 on 20 December 1966. The first sergeant of my company threatened to turn me over to the draft board if I didn't re-up; I told him I had a contract and where to go. Heard nothing more from the Army until my final discharge arrived in the mail in 1971.



Name: Gary Hoover
E-Mail: garyhoover1@aol.com
Years Served: April 3, 1968 - April 3, 1970
Outfit: United States Army
Tours/Stationed: Fort Dix, NJ, and West Germany

I was in the U.S. Army, first in Ft. Dix, NJ, and then I was stationed in Jever, W. Germany until I got out of the Army. I worked at a Nike missile base in Northern Germany, keeping the Russians from invading Western Europe. Times have changed since then, you think?


NAME: Steve Kunau - it was while gathering information on Steve's life for the In Memoriam Highlights section that we learned he served in VietNam as an Army Ranger. His friend Larry Gorman sent this picture.
Current Music: "Battle Hymn of the Republic"