MR. WILLE'S LAST STAND !
DATELINE WOODROW WILSON HIGH, SEPTEMBER 2014: Mr. Wille shared his very last ever Wilson ID badge. Yes, our classmate/liaison is finally getting out of Wilson at the end of this school year. I just wonder if his clever virtual photoshopping of his former selfie has all his students scratching their heads?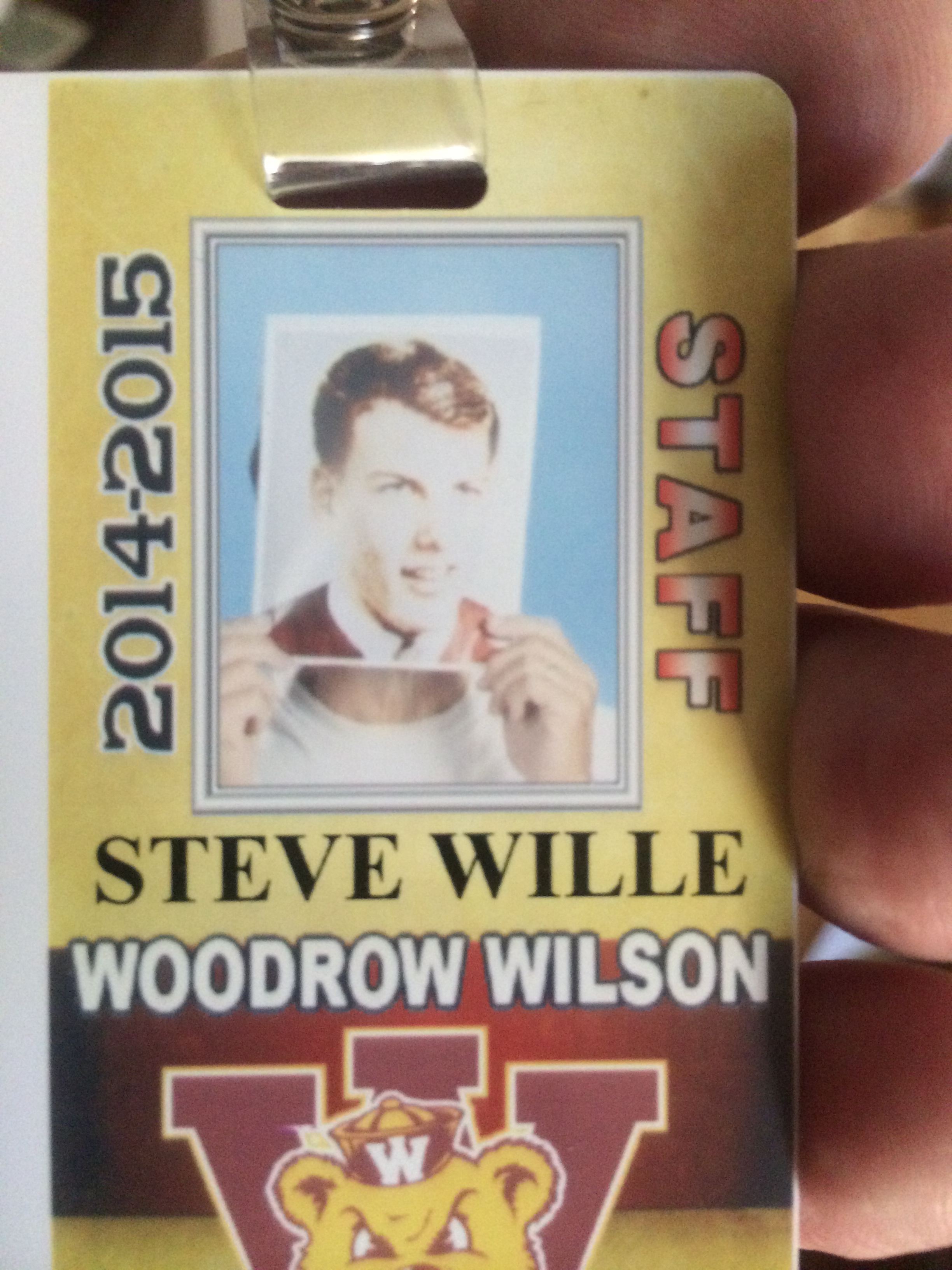 HASN'T CHANGED A BIT
August 9, 2014

The Reunion Committee with
the 2014 Scholarship Winners
(If some of this looks familiar, it is because a few of these pictures
and comments are also displayed on the "Legacy of '63 Winners" pages.)

On August 9, several members of the Class of '63 Reunion Committee met at Marie Callender's Grill in Seal Beach to begin planning our next event (the big 7-0 Birthday party next year.) We took this opportunity to invite our 2014 scholarship winners, Ryan Sweeney and Hannah Levy, to join us. We also were able to include Jonathan Murrietta, our 2012 scholarship recipient, who is still in Long Beach and studying at LBSU. Visit the "Legacy Winners" pages to learn more about each recipient.
2014 LEGACY WINNERS, RYAN SWEENEY AND HANNAH LEVY
RYAN AND HANNAH FOLLOW IN 2012 WINNER JONATHAN MURRIETTA'S FOOTSTEPS
THE WHOLE GANG. SEE LEGACY PAGE FOR NAMES
MRS. AND MR. STEVE WILLE (OUR LIAISON TO WILSON)
LEE FARIES, CAROL MCCLURE, LYNNE HENRY
JERI HEMPHILL SPOTS SOME FRIENDS WAVING
JONATHAN, A JOURNALISM MAJOR, IS NOW WRITING FOR LOCAL MAGAZINE "LONG BEACH 908"

DENNIE HAMILTON AND LEE FARIES
LINDA MORRISON AND BARBARA DUSKI
TRUDY CHENEY AND JACKIE HALVERSON
ENTHUSIASTIC "LEGACY OF '63" SUPPORTERS JOHN MAUGER AND MR. WILLE