This graphic may be found at www.glittergraphics.com
GONE BUT NOT FORGOTTEN
Thanks to Mr. Wille for capturing the current demolition Wilson High's Stephens Field
During the renovation, all Wilson's home football games will be held at Long Beach Veterans' Stadium



Send Check to:




Skip Rowland Bench Fund


c/o Ed Sewell


1134 Palo Verde Ave.


Long Beach, CA 90815





Make check payable to "Partners of Parks"

and note "Rowland Bench" on the memo line.

Any questions, please call Ed at (562) 706-5641

GO BRUINS!

This just in from Hugh Prichard in Eugene, OR: "Hi Jeri in Lil' Saigon. I know your wildlife is different from mine… Today's special avian visitor was a Pileated woodpecker, the largest kind. She was a beauty! Pretty rare, even in my Bog. I see one every few years. Love and Moochies, Hugh E."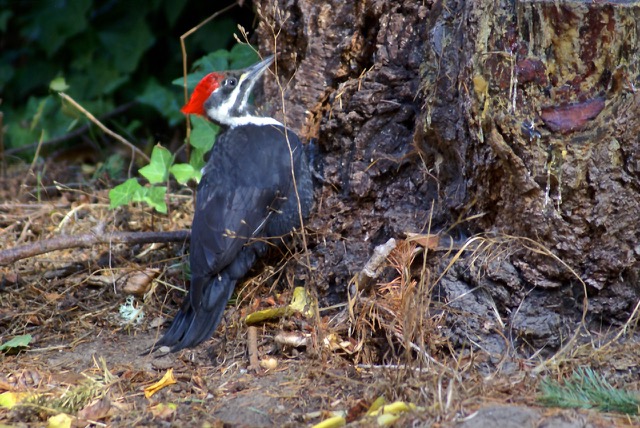 (Although John Mauger has lived in Orange Co for years,
he spent a day showing his family that his HOMETOWN rocks.)
On Monday August 4th, my daughter April came to visit with her children Jeffrey, London and little Holland. I wanted to show them where I grew up so I gave them the grand tour of Long Beach including Hilltop Park for a city panorama view, Mrs. Chapman's Angel Food Donuts, Queen Mary and Shoreline Village, Lee School, Jefferson and Wilson as well as LBCC. Fun was had by all and we even watched the fishermen bring in their catch on the pier.
London, April, Jeffrey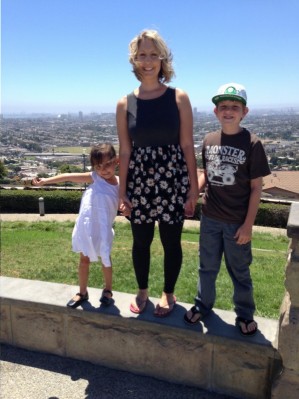 At Hilltop Park in Signal Hill, you can purchase a paver brick with 1, 2 or 3 lines and they place for you (I assume forever). I bought this one for me and my brothers 20 years ago, when first offered, and at the time the funds went to maintain the park & city library.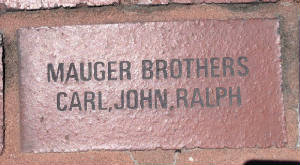 DATELINE: NEWARK, CALIFORNIA
FROM MARLA DAVIS BLOWERS
LET'S "FINISH THE FIGHT" !
On the weekend of July 19 - 20, 2014, our little town of 43,500 people held a Relay for Life and raised over $75,000. My family and I are members of the Newark Optimist Club. Our club joined with the Newark Rotary Club to form a team. We set up camp, spent the entire day, and a few hardy souls walked throughout the night. The event was held on our high school track lined with luminarias in honor/support of those who have survived or are battling cancer, and in memory of those who lost their battle against cancer. This year's theme was "Finish the Fight", oh that we could!
Our team had a mini-fundraiser during which we painted fingernails an outrageous shade of "Relay Purple" for a $2 charge. Women and men lined up to help our clubs raise money. It was such fun! Members also made donations and got sponsors. Our top walkers included: my husband Russ, who walked 16 miles; daughter Jennifer who walked 20 miles; and daughter Monica who walked 13.5 miles.

Russ was voted "Most Inspirational Survivor" for beating prostate cancer and several serious skin cancers. He is my hero! He was also our Team Captain!
As for me, I made several laps on my buzz-around scooter and took photos...Yes, I'm wearing a huge bra for the "Bras and Bubbles" lap.
I was the lucky one who went home to sleep on Saturday night, while my family walked and walked and walked.... It was a wonderful weekend where our city spirit was at its best! Let's knock cancer O-U-T !


BOB CHRISMAN IN PRINCEVILLE, HAWAII
Summer, 2013
Looking at these finish line pictures, one can deduce that I either FINISHED 1st or I was just "Finished "after the 2-mile Hanalei Bay race. I'll let you be the judge.

Actually, I finished 5th in the 60 - 70 age group but in another 1.5 years, I promise to finish 1st in my Division. - Bob

.
.
Hugh Prichard in Eugene, Oregon
Sunday, August 20, 2012
"You may be familiar with the strident protest rides which take place from time-to-time called 'Critical Mass.' You know, angry people who want to prove just how cool it is to be mad, naked, and on a bike blocking traffic."
"Well, in Eugene, a couple of friends organized its polar opposite.
'Kidical Mass' is for families and we ride through the streets obeying the law and tinkling our bells. It is just the funnest thing. There were probably 75 or more of us yesterday, many in cargo bikes," as you see in the picture above."
Want a smoothie?
This is a Bicycle-blended smoothie which was created
and poured along the route.
The blender is hooked up to the front tire of the stationary bike
on a trailer being pulled by more bikes.
A very creative vehicle
Some of the participants