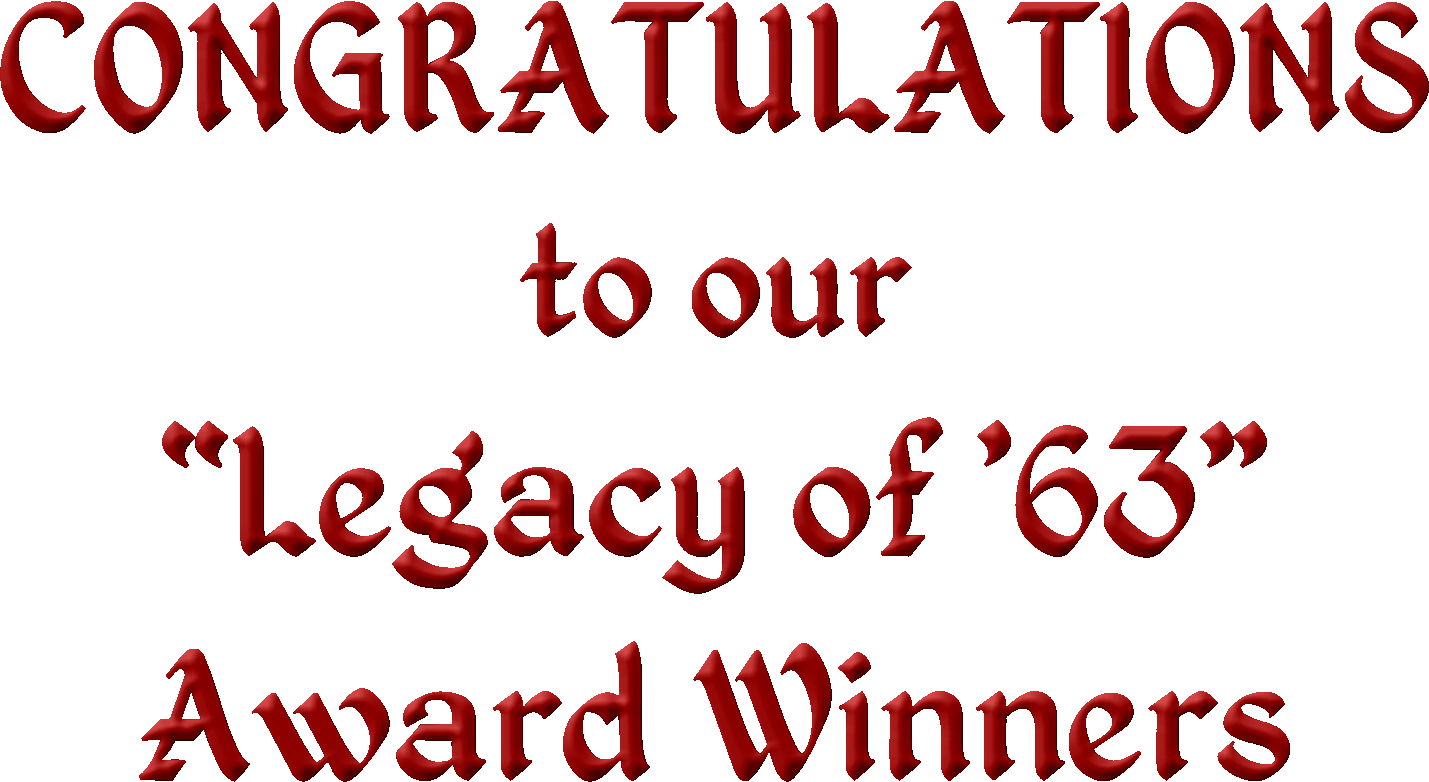 Shannon Donley, 2017 Award Winner
Arriana Murguia, 2017 Award Winner
Frida Salgado, 2016 Award Winner
Danica Schutt, 2015 Award Winner
Hannah Levy, 2014 Award Winner
Ryan Sweeney, 2014 Award Winner
Susana Soto, 2013 Award Winner
Jonathan Murrietta, 2012 Award Winner
Matthew Wilson, 2011 Award Winner
Karryssa Fenderson, 2010 Award Winner
Evelyn Audelo, 2009 Award Winner
We are pleased to inform you of the Woodrow Wilson Class of '63 Legacy Scholarship. The fund was created to help deserving Bruins continue their education after graduation from Wilson High School. The first award was made in 2009 and has continued to the present date.


A Scholarship Committee comprised of faculty members and counselors from Wilson High School chooses the recipient. Students meeting one or more of the following criteria will be candidates. Individuals that demonstrate exceptional inspiration, overcome physical and mental challenges, provide extraordinary service to the school and/or community, and have sound scholastic achievement will be honored.


A perpetual plaque titled "Wilson Class of 1963 Legacy Scholarship" has been created with gold nameplates provided for inscribing each recipient's name, beginning with the 2009 winner. This plaque shall be placed prominently on the wall of the Wilson High School Counseling Office.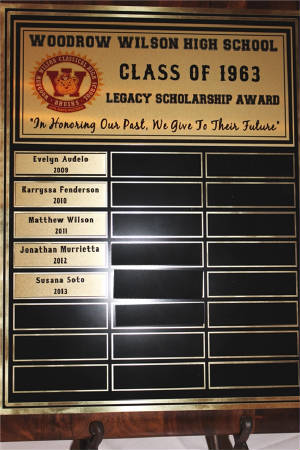 The Reunion Committee thanks John Mauger for designing and providing this plaque.
**********************************************************
If you would like to donate to the Legacy Scholarship Program,
click on the red bow to see/print the Donation Form.


**********************************************************
PUTTING NAMES WITH FACES
2014 Winners Ryan Sweeney and Hannah Levy
Scroll down for more pictures !
On August 9, 2014, several members of the Class of '63 Reunion Committee met at Marie Callender's Grill in Seal Beach to begin planning our next event (the big 7-0 Birthday party next year.) We took this opportunity to invite our 2014 scholarship winners, Ryan Sweeney and Hannah Levy, to join us. We also were able to include Jonathan Murrietta, our 2012 scholarship recipient, who is still in Long Beach and studying at LBSU. (Click on the links above to learn more about each winner.) Additional pictures taken at this luncheon will be posted in the new "Reunion Committee with Scholarship Winners"
Front: Jonathan, John, Jeri, Linda
Middle: Jan Wille, Barbara F, Ryan, Hannah,Mary-Ann, Lynne, Lee, Jackie, Carol
Back: Mr. Wille, Gary, Dennie, Barbara L
RYAN, JONATHAN AND HANNAH
Music: "That's What Friends are For"