And the beat goes on! Reunion Committee Meeting #3 on November 18 - working on our 55th Reunion ....
We've Only Just Begun! On March 14, the Wilson '63 Reunion Committee gathered for food, fun and friendship. Plans are underway for our 55th reunion, September of 2018.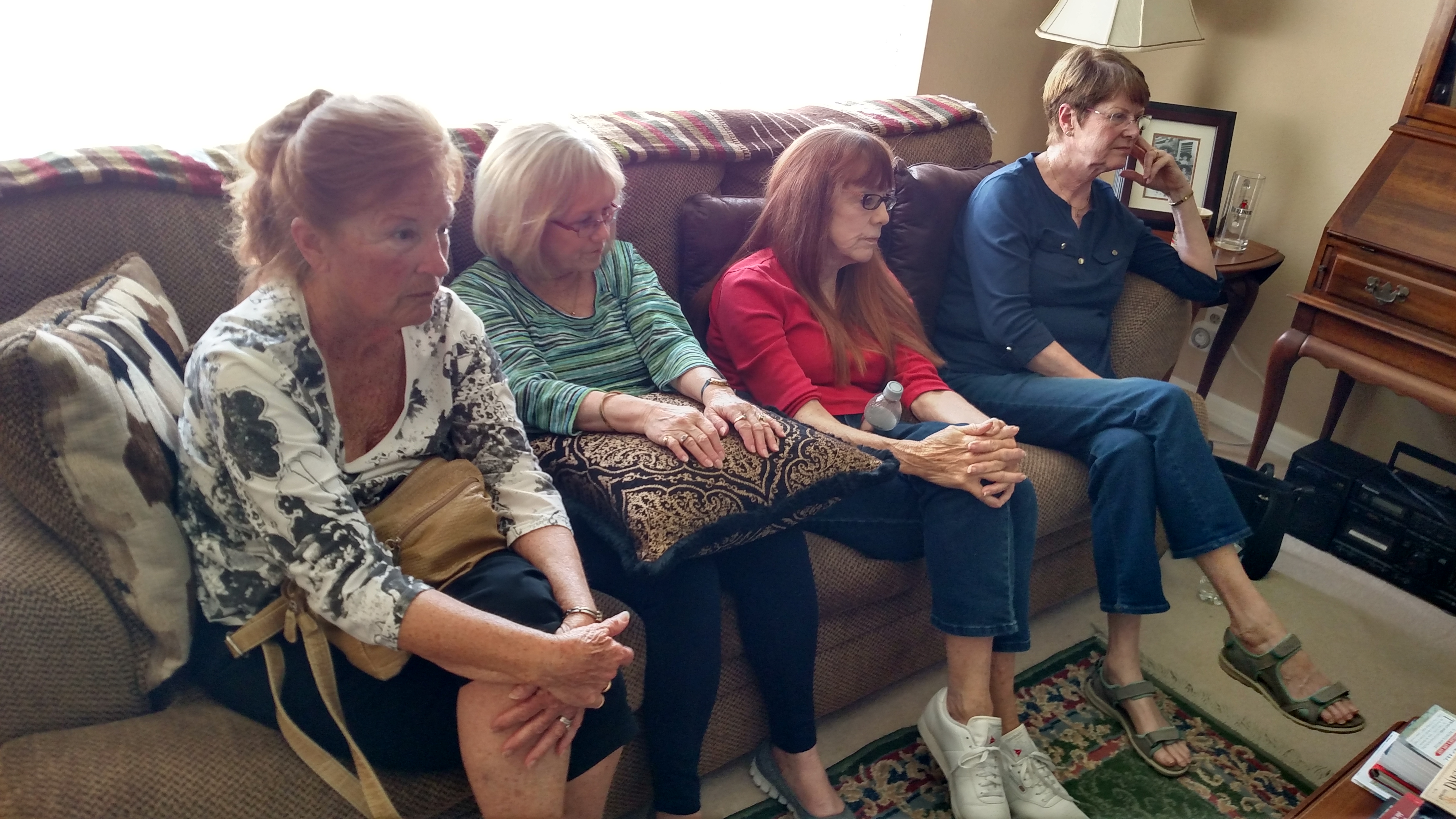 DENNIE, LINDA, CAROL, BARBARA
So...stand by for updates as we go along!..

See you in September (2018)
For the past 7 years, the annual cost of maintaining our Wilson '63 website
has been donated by committee member Barbara Billings Schwartz.

THANK YOU BARBARA !!
FINAL REUNION MEETING ~ SEPTEMBER 7, 2013

"WE'VE GOT TO STOP MEETING LIKE THIS ! "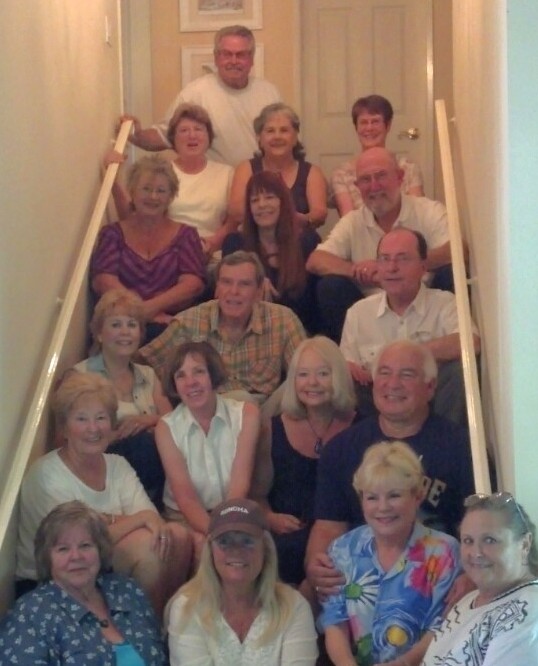 Jeri, Lee, Trish, Gingi, Dennie, Lynne, Mary-Ann, John, Donna, Nick, Gary, Jackie, Carol, Roger, Robin, Dave, Barbara (Duski) and Barbara (Armstrong)
AND NOW, WITH THE 50th REUNION COMING SOON ...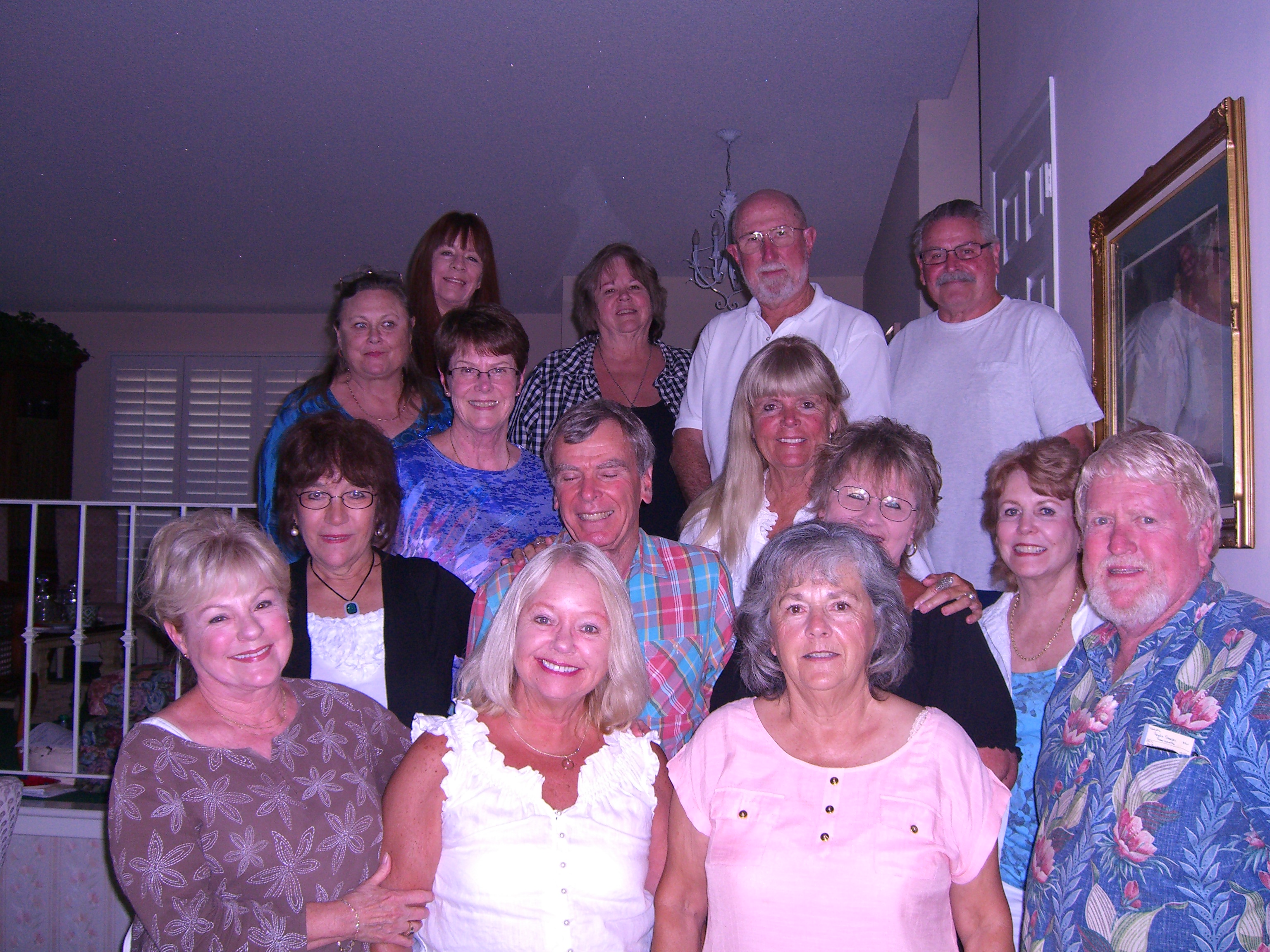 With the big event coming up in just over a month, these committee members took a break from their August meeting to show their faces. L to R first row: Trish Reynolds Farber, Mary-Ann Solsvik Nied, Barbara Duski Fernandez, Bill Cheney. Row 2: Patti Chaffin Sutton, Nick Sherbin, Jackie Halverson Gonzalez, Donna Combs Dominguez. Row 3: Gingi Kadvany Negvesky, Barbara Armstrong Loureiro, Lee Faries Ostendorf. Back row: Carol McClure, Jeri Hemphill Livingstone, Roger Wyatt, Dave Southard. Thanks to Gary Reid for taking the picture.
If you would like to help the reunion committee please contact us at bruins@wilson63.com
Best Performance in an Ensemble Cast: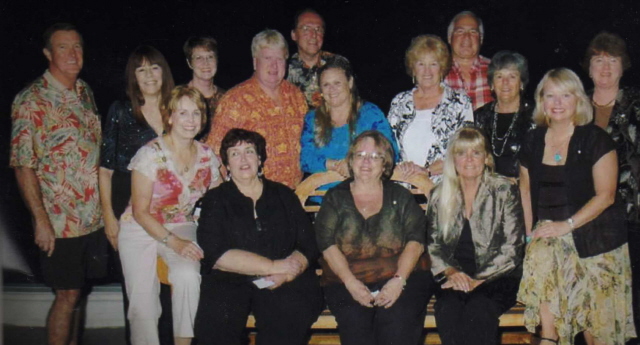 The votes are in: The magicians behind the magic are
Donna, Alix, Jeri, Lee, Mary-Ann (back row) Bob, Carol, Barb L, Bill, Gary, Gingi,Dennie, John, Barbara F. Robin. Not pictured: Nick, Lynne, Steve, Patti,
Margie, Marsha, and Barbara (Schwartz.)
Barbara Armstrong Loureiro
Barbara Billings Schwartz
Patti Chaffin Sutton
Bill Cheney
Bob Chrisman
Donna Combs Dominguez
Barbara Duski Fernandez
Lee Faries Ostendorf
Jackie Halverson Gonzalez
Dennie Hamilton King
Marsha Harris Tobolski
Jeri Hemphill Livingstone
Lynne Henry Stevenson
Gingi Kadvany Negvesky
Robin Kennedy Sprang
Margie Lassiter MacConnell
John Mauger
Carol McClure
Gary Reid
Nick Sherbin
Mary -Ann Solsvik Nied
Linda Tucker Wride
Roger Wyatt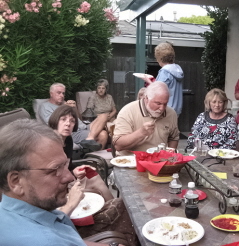 Since fish is brain food, and we need all the help we can get, Travelin John Mauger went to Alaska and brought home tons of albacore to feed us. Above, Clockwise Steve, Lynne, Pat, Barbara, John, Dennie & JoAnn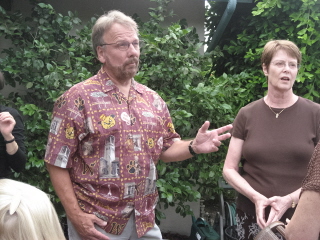 Above: Since we could not get the elusive Liaison Steve Wille to pose modeling his very own Wilson Hawaiian Shirt, we brought in a mannequin to do the job. Barbara L looks on.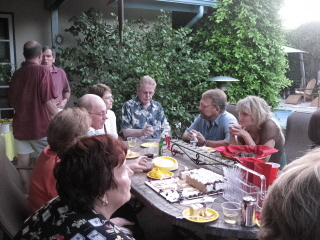 Above, clockwise, Alix, Robin, David,
Manuel, Nick, Barb, Rick, Steve, Jan
By the way, thanks to Gingi for taking all the pictures. Unfortunately, she's not in any of them. :-(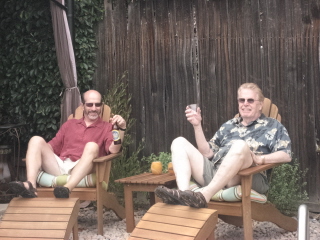 Your committee in November pondering
how to put on the best reunion ever.
Facing those important
DECISIONS ....
DECISIONS ....
AND MORE DECISIONS.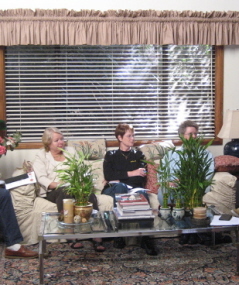 MARY ANN, BARB L, BARBARA S, BIG PLANT
At still another meeting, we have another group shot of the fine looking committee. Please note the heavenly glow around some of the heads, which is indicative of just how angelic and unselfishly these people give of their time and talents ...
L to R: Front row: Donna, Lynne, John - Back row Gary, Barbara Schwartz, Barbara Loureiro, Nick, Dennie, Alix, Robin, Jeri, Mary Ann, Barbara Fernandez, Gingi.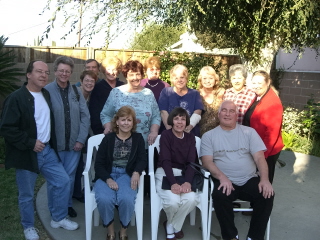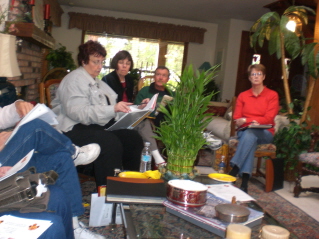 Pictured above, Alix, Lynne, Bob, oh
that big plant again, and Barbara.
Right, early March, the committee meets for the 6th time!
Pictured Barbara L, Robin Nick, Gingi, and Liaison to Wilson High, not a genuine committee member, Steve "call me Mr. Wille" Wille. How's that, Steve?

Your Reunion Committee HARD
AT WORK Planning for September!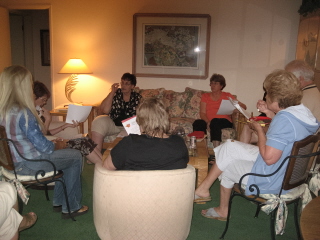 July 19, the committee working on all the final details! Above, from left clockwise Lee, Barbara Loureiro, Alix, Robin, John, Dennie, Jeri Below Alix, Lynne, John, Gary, Dennie, Jeri, Lee, Barbara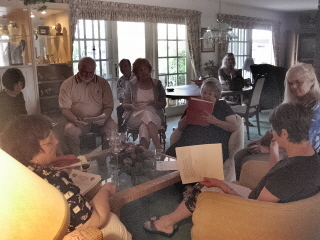 Below, good buddies Barbara Fernandez, John, Robin and Dennie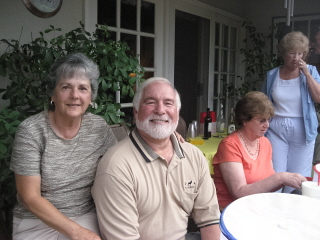 You've heard, of course, of the Old
Man and the Sea? Well, here he is.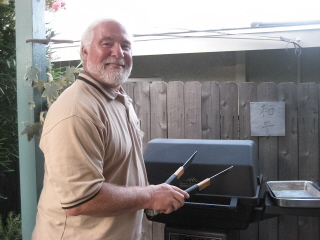 JUST DESSERTS!
The cake says it all.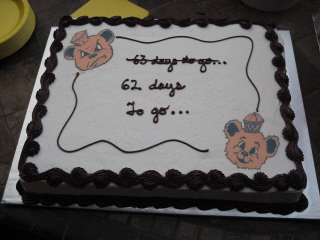 FOOTNOTE: SIGNIFICANT OTHERS WORK HARD, TOO SUPPORTING OUR REUNION ... PICTURED (LEFT) ARE MEMBERS OF THE HONEY-DO CREW, MANUEL LOUREIRO & RICK TRAVER, DOING THEIR PART FOR THE CAUSE.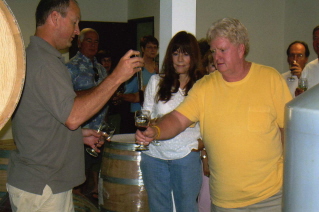 ABOVE: The committee met at "The Winery", owned by Dennie's son Gary King. Pictured here Gary King, new committee member John Mauger, Lynne Henry, Barbara Armstrong, Carol McClure, Bill Cheney, Gary Reid and Bob Chrisman.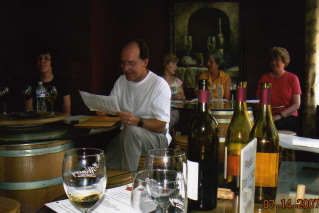 Above: Lynne, Gary, Donna, Barbara and new committee member Robin Kennedy Sprang.
Below: Dennie, Jeri, Gary, Alix, John, Lynne. WORKING HARD.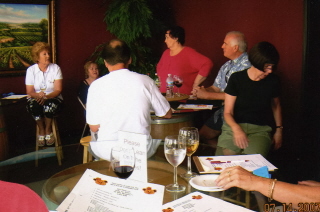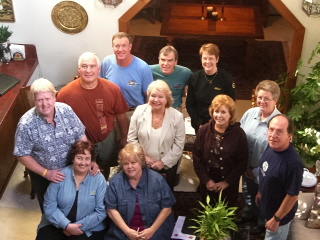 All Together Now:
Alix, Jeri, Bill, Mary Ann, Donna, Barb S,
Gary, John Bob, Nick and Barb L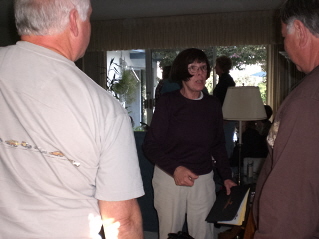 Lynne reacts with typical Bruin Bear skepticism to something she is being told.